AccuQuilt Wonky Heart Quilt Tutorial
The Wonky Heart die from Accuquilt is used to make this cute quilt. Click on the image below for more information about this die.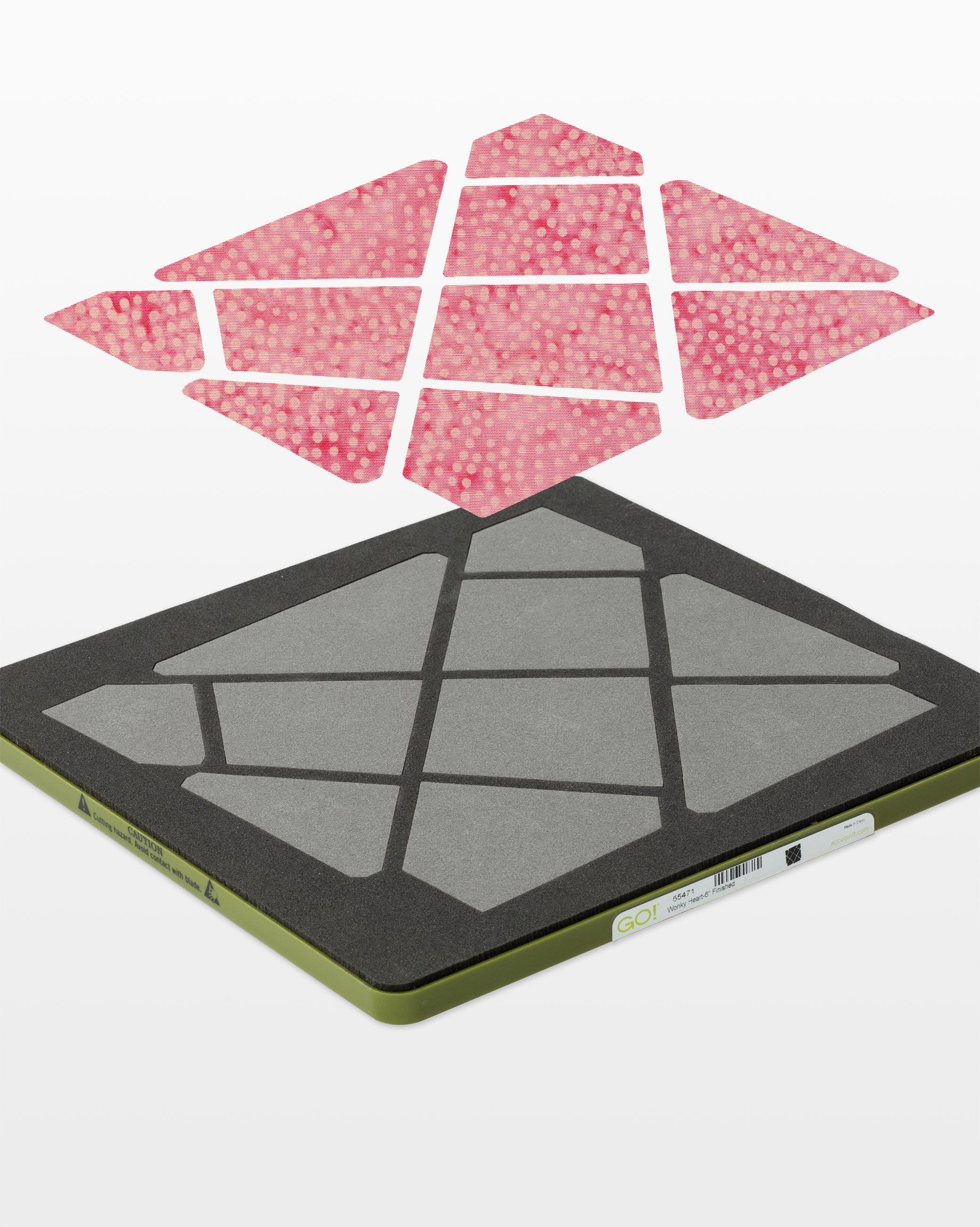 AccuQuilt GO! Wonky Heart-6" Finished Die from AccuQuilt
Cutting & Piecing the Block
I used a Layer Cake(r) called Wovens by Bonnie and Camille from Moda. Click on the image below to purchase.
 These woven fabrics are very soft so I used starch to press them before cutting. I picked 6 different fabrics and pressed them, one-at-a-time, on top of each other. Remember to pay attention to the grainline!
Next,  I took the pressed stack, placed it on the die and cut it. Carefully remove the excess fabric while leaving the pieces in place on the die.
This video shows how I shuffled the 3 heart pieces in the stack.
Use the Block Assembly Instructions to piece the block.
Click Here to Download the Block Assembly Instructions
Now repeat this process until all fabrics in the layer cake are cut and pieced. I like doing 6 at a time because it is easier to keep track of all the pieces. You might prefer to piece more or less if that works for you.
Assemble The Quilt Top
Lay out the blocks in 7 rows of 6. Take a picture to help you determine the placement of blocks that are pleasing to you. This also helps if the blocks get scrambled for some reason!
Add Sashing Strips to Each Row
I put sashing between the blocks in the rows. First I sewed sashing strips to the end of the  row and between the blocks in the row. But first these strips need to be cut. 
This video shows how to cut sashing strips.
This video shows how to cut lengthwise grain strips.
---
For more project tutorials and videos:
Subscribe to our mailing list
Sign up to receive our Wednesday morning newsletter. You will receive updates to the Learning Center on QuiltNotes.com. Forward this information to your friends because I know they'll love it and appreciate you for it.